I've been touring around in Sydney for 4 days now, walking everywhere and taking in the sights, sounds, and smells. The area my hostel is in is close to Sydney's Central Business District, as well as the Royal Botanical Gardens, Circular Quay, and the Sydney Opera House. Not a bad location after all; everything is within walking distance thus far.
The first day I spent walking around Hyde Park and the surrounding area. There is a giant cathedral, St. Mary's, on the outskirts of the park. This cathedral is gorgeous, and serves as a nice backdrop to people relaxing in the park.
In the center of Hyde Park is a giant fountain with ornate statues. This is a central meeting point for people walking through this area, and also the focus of many tourists' photos, including mine.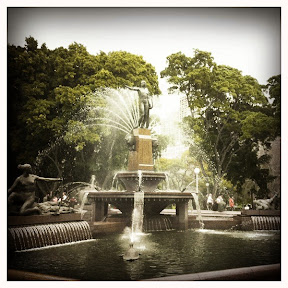 Nearby this fountain is a small cafe offering drinks and food for patrons to enjoy with their view of nature. I stopped to check out a group of gentlemen playing chess at a giant chessboard in the park.
At the other end of the park from here is the ANZAC Memorial and the Australian Museum. The ANZAC Memorial pays tribute to all Australians and New Zealanders who fought in the wars as a part of the Army Corps.
After I had explored the park area thoroughly enough, I ventured into the business district. Here you can find dozens of stores, both high-end and general. Scattered amongst these are restaurants and cafes with smells almost tempting enough to wander inside. Starbucks has a presence here, as well as McDonalds, Subway, and KFC. There is even a Tom and Tom's, which made me immensely happy to see.
- Posted using BlogPress from my iPhone